Seniors to juniors… These are the star heroes who are getting excited with liplocks..!
Once upon a time lip lock scenes were very common in Bollywood movies. Now they are doing more than just lip lock scenes. But in Telugu, once upon a time, heroes were bitter. But now even star heroes are pleasing the youth by acting in lip lock scenes. If the heroes say to do liplocks in the movies, the directors also plan the same type of scenes that the movie will get craze and good business will be done. Earlier the audience had a big feast with these scenes. Now let's see the stars who acted in lip lock scenes in Tollywood.
Nagarjuna:
It must be said that acting in kissing scenes with senior heroes is an adventure. But Nagarjuna reached those limits. Nagarjuna got angry in the lip lock scenes in the movie Manmadhudu 2. The fans were also shocked to see it. When Nagarjuna reached the age of sixteen, she was much younger than him. The audience could not digest his lip-locking with Rakul, who acted alongside his son Naga Chaitanya.
Mahesh Babu:
No one expected that superstar Mahesh Babu, who shy away from touching real heroines, would act in lip lock scenes. But due to the demand of the role, he acted in a lip lock scene with Kajal in the movie Businessman. He also kissed Samantha in the movie Aggressiveness.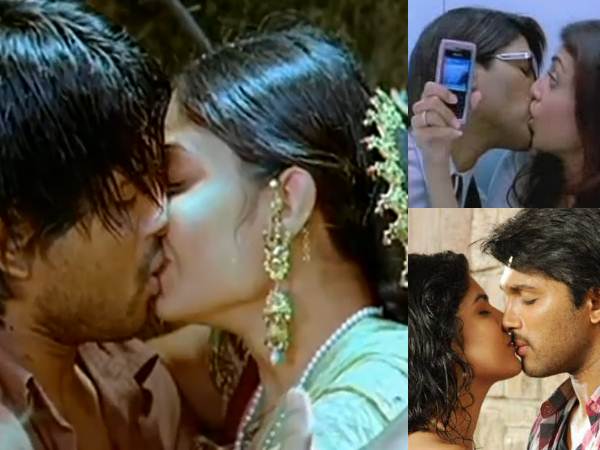 Allu Arjun:
Stylish star Allu Arjun surprisingly acted in a lip lock scene in the movie Varadu. Apart from that, he also gave lip lock to Kajal in the movie Arya-2.
Ravi Teja Top:
Mas Maharaj acted in lip lock scenes with four heroines. Ravi Teja's kissing scenes with Dimple Hayati, Meenakshi Chaudhary, Regina in the movie Power and Rakul Preet Singh in Kick 2 made the youth sleepless.
Vijay Devarakonda:
The latest sensation Vijay Devarakonda is also stirring with romance. Both girls and boys are fascinated by the kissing scenes in Vijay Arjun Reddy's movie. After that, Vijay also appeared in Dear Comrade, Geeta Govindam, World Famous Lover and Liger.
Nani:
No one expected that natural star Nani would act in such a scene. But Nani recently crushed the boy heroine Kriti Shetty in the movie Shyam Singarai. Acted in a lip lock scene as the character demanded.
Pawan Kalyan:
Power star Pawan Kalyan also shocked everyone by acting in a lip lock scene in one movie. Pawan gave Trisha a lip lock in Teen Maar movie. He acted as a romantic hero in this movie.
Prabhas:
Prabhas also gave Anushka a lip lock in Baahubali movie. But Jakanna cut that scene in the final editing. Meanwhile, those photos are doing the rounds.
Naga Chaitanya:
I can't count how many lip lock scenes Samantha Naga Chaitanya acted in the movie What Maya Chesave. Even after that, Naga Chaitanya acted in kissing scenes in some movies.
The post Seniors To Juniors… These are the star heroes who are getting excited with liplocks..! appeared first on Telugu Lives – Telugu Latest News.
Get the more latest Tollywood movies news updates