Positive talk for Naga Shaurya's 'Krishna Vrinda Vihari'… It's like a hit..!
Young hero Nagashaurya could not hit in that range after Chalo. Shaurya, who has been waiting for a proper success for almost four years, is releasing Krishna Vrinda Vihari under his own banner tomorrow amid huge expectations. Positive vibes are being seen for the movie even before its release. In this romantic comedy love story, Shirley Setia, who was born in Daman, Goa and is a popular singer in New Zealand, is playing the heroine. She is getting introduced to the Telugu screen with this movie.
She got good marks in Bollywood with movies like Maska Nikamma. Nagashaurya's mother Usha Mulpuri has produced this film under the banner of Aira Creations. Anish R. Directed by Krishna. When it comes to the story of this movie, a Brahmin youth who is angry works as a software engineer. Love marries Vrinda who is introduced there. After that the lives of these two? The story of this movie is the twists and turns.
The teasers and trailers say that the director has presented this movie as a complete romantic entertainer. Shaurya produced this movie himself with faith in the story and stories. A walk in AP for movie promotions created more buzz about the movie. The film is also seeing positive buzz in Book My Show. It has already received lakhs of likes. If the first day's hit talk comes, then the movie is over..!
Hero Naga Shaurya also got a little emotional saying that he is sure that the movie will be a hit at the pre-release event… My mother and father have also worked very hard as producers for this movie. He said very confidently that he is confident that the film has turned out very well.. You should also believe in me.. I will keep your faith.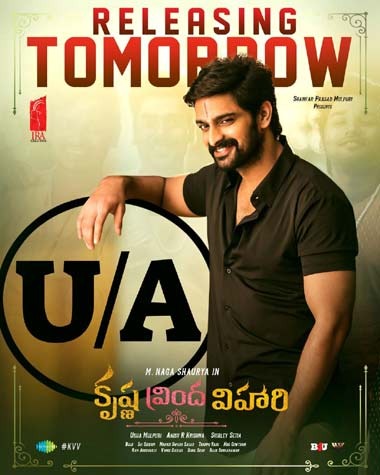 Just seeing Shaurya's words, it seems that he has a lot of faith in the film. This movie is also getting positive talk from the censors. The run time of Vihari with U/A certificate is 2 hours 19 minutes. That means it is coming to the theaters with an overall running time of 139 minutes. Radhika Sarath Kumar, Vennela Kishore, Rahul Ramakrishna, Priyadarshi and others acted in key roles. From a technical point of view, Mahathi Swara Sagar composed the music and Sai Sriram worked as the cinematographer.
The post Positive talk for Naga Shaurya's 'Krishna Vrinda Vihari'… It's a hit..! appeared first on Telugu Lives – Telugu Latest News.
Get the more latest Tollywood movies news updates