Bigg Boss 16: Fans' happiness reached the fourth sky with Fahman Khan's entry, said – what will happen to you now, Shaleen-Tina
Fans Reacted on Fahmaan Khan Wild Card Entry: Salman Khan (Salman Khan) Bangla show of Bigg Boss 16 (Big Boss 16) These days it is attracting everyone's attention due to its meaty twists and turns. The game of Bigg Boss 16 is progressing very fast. Every week one or the other member is being evicted from the house. Meanwhile, the makers of Bigg Boss 16 have released a promo related to the show in which TV actor Fahman Khan (Fahmaan Khan)Wild card entry came in the house. This twist of the makers is very much liked by the fans as well as many of its viewers are questioning the game of Shaleen Bhanot and Tina Dutta.
All the fans are very happy with the entry of Fahman Khan in Bigg Boss 16 house. A user said that 'Sumbul Tauqeer's real game and personality will come out now'.
Fans are thanking Bigg Boss
by another user bigg boss 16 Wrote for the makers that 'Thank you very much Bigg Boss, I am very happy, now Sumbul No one can say anything to Tauqeer. Sumbul's love has come, now Sumbul has become strong, Sumbul's strength is Fahman.'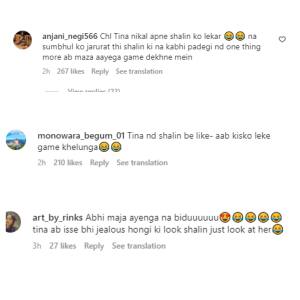 Bigg Boss 16 fans tear apart Tina-Shaleen
Fahman Khan's bigg boss 16 As soon as the show enters, the audience has started giving their opinion about Tina Dutta and Shaleen Bhanot's game on social media. A user says that 'Look at the face of Shaleen and Tina now, both of them used to spoil Sumbul Taukeer's game'. Along with this, another user even said that 'Chal Tina Nikal apne Shaleen lekar, Sumbul ko nahi Shaleen zarurat thi nahi abhi hoga, one more thing and now it will be fun to watch the game'. Let's say that it is being heard that Fahman Khan has come to promote his new show 'Dharma Patni'.
Get the latest Television news updates