Rajoshi Barua Reaction On Ashish Vidyarthi Marriage: Bollywood's famous actor Ashish Vidyarti is in a lot of headlines these days. Actually, the actor has got married for the second time at the age of 60, whose pictures are becoming increasingly viral on the Internet. Ashish is married to Rupali Baruah, a resident of Kolkata. After this news came to the fore, the fans are congratulating Ashish and Rupali. Now meanwhile, Ashish's first wife Rajoshi Baruah has shared some posts on her Instagram story, which are being discussed a lot. Seeing this cryptic post of Rajoshi, it seems that the actress is deeply hurt by Ashish's second marriage.
Rajoshi's cryptic post
ashish student Rajoshi Baruah wrote in an Instagram post after the wedding, "The right guy will never ask you what he means to you. He won't do anything he knows will hurt you. Let it always be." Remember." Rajoshi further wrote, "I hope overthinking and doubt leave your mind now. Your mind is filled with clarity instead of confusion. May peace and happiness fill your life. May you be strong for a long, long time." , now is the time to receive the blessings. You deserve it all." These posts of Rajoshi Barua are becoming fiercely viral on social media and people are also commenting a lot on them. Please tell that Rajosh and Ashish are the parents of a son, whose age is 23 years. Ashish's son's name meaning. In such a situation, the second marriage of the father has given a deep blow to the son Arth.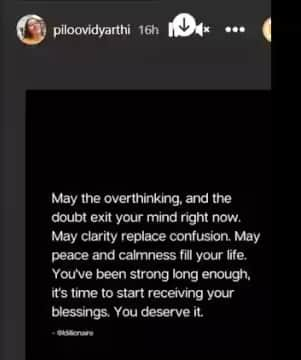 Career of Ashish Vidyarthi
Please tell that actor Ashish Vidyarti started his career with the film 'Drohkal'. The actor was awarded the National Film Award for Best Supporting Actor for this film released in 1995. Ashish Vidyarthi appeared in negative characters in most of the films, in which his acting was well received. Ashish has worked in about 300 films in 11 languages.
Get the more latest gossips news updates